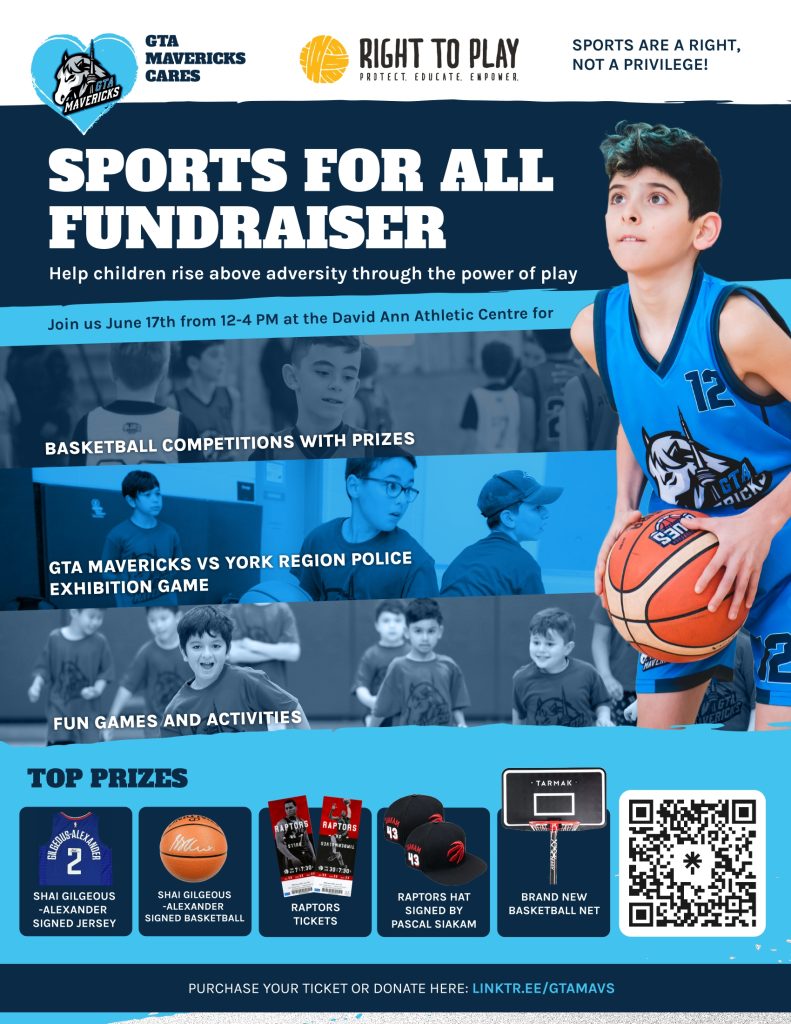 Dear Parents,
We hope you're as excited as we are for our 'Sports for All' fundraiser event this Saturday. To clarify, the event will be held at the David Ann Athletic Centre (130 Racco Parkway, Thornhill, ON) from 12-4 pm.
VIP ticket holders will receive pizza, a snack, and a drink at the event.
Food will also be available for purchase.
Raffle tickets will also be available for purchase at $5 per ticket (cash only).
Please bring any lightly used athletic shoes you have to contribute to our shoe drive! We'll have two of our donation boxes there for you to drop off whatever you bring.
Here is an overview of what the day will look like:
12-12:45 – Guests will arrive and have the opportunity to walk around, play some mini-games and shoot around, enter our raffles, place bids for the silent auction, and socialize
12:45 – Announcement from Laura Smith, the MPP of Ontario
1:00 – 3-point contest
1:45 – Announcement from Chris Ainsworth, MP of Vaughan, and Steven Del Duca, Mayor of Vaughan
2:00 – Basketball Game with the York Region Police vs. GTA Mavericks U14 team
3:00 – Skills contest
3:45 – Final words, raffle and silent auction winners announced
Throughout the event, on-site summer camp registration will be available. If you have yet to but tickets, visit: linktr.ee/gtamavs
Thank you all for your support towards this amazing cause and we look forward to seeing you on Saturday.
Sincerely,
The GTA Mavericks Team